CMA CGM Kerguelen docks in Southampton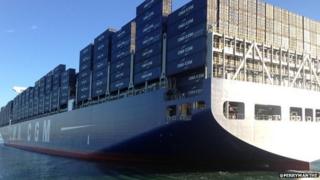 The largest British-registered ship has arrived in Southampton as part of its maiden voyage.
The CMA CGM Kerguelen, which can carry up to 17,722 20ft (6m) containers, is 398m (1,305ft) long and 54m (177ft) wide.
It is the third-largest container ship in the world.
The vessel docked at Southampton's purpose-built 500m deep water berth, SCT 5, built to accommodate ultra-large container ships.
Southampton is its first and only UK stop on its maiden voyage. The Kerguelen is expected to leave Southampton at about 08:00 BST on Thursday.
It has the capacity to transport almost 200,000 tonnes of goods.
It arrived in the UK from the French port of Le Havre, where it was inaugurated, and will travel to Hamburg.
The ship is named after the 18th Century French navigator Yves Joseph de Kerguelen de Trémarec.
Owned by a French shipping company, it was built in South Korea at Samsung Heavy Industries' shipyard.
As of January the largest container ship in the world is the MSC Oscar, which is a few metres shorter than the Kerguelen but can carry 19,224 standard containers.
---
How big?
• The ship is longer than four football pitches, or five-and-a-half A380 Airbus planes
• At 398m (1,305ft), it is longer than the Empire State Building (381m, 1,250 ft) is tall
• Its engine is as powerful as 900 Renault Megane cars
• If all the containers it could carry were placed end to end they would stretch for 67 miles (109km)
Source: DP World, Southampton
---