Fareham Borough Council can adopt 6,000-house new town plan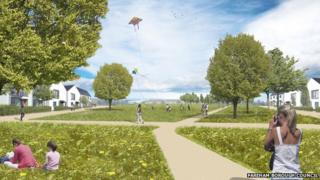 An independent planning inspector has ruled a controversial plan for thousands of new homes on green field land can go ahead.
Fareham Borough Council is now able to adopt the Welborne Plan, which sets out proposals for a 6,000-house town between Southampton and Portsmouth.
David Hogger, of the Planning Inspectorate, ruled two documents setting out planning policy were sound.
The proposal for the town, to be called Welborne, had attracted protests.
Both plans are due to be discussed by the council at a meeting on 8 June and if adopted will become planning policy for the authority.
The Welborne Plan is the blueprint for a development of approximately 6,000 homes north of the M27 motorway.
The Development Sites and Policies Plan details the council's planning for allocating land, growth and protecting the environment.
It contains details about how the council should allocate housing sites within Fareham Town Centre and in other urban areas up until 2026.
Executive leader of the council, Councillor Sean Woodward said: "Our aim has always been to allocate land for a single 6,000 home community at Welborne with the entire required infrastructure.
"We will now get that multi-million pound investment in infrastructure in the borough that will make these developments sustainable."
The plans attracted protests as Mr Hogger's inspection began in October over concerns the area was being "urbanised".