Solent powerboat crash teen Simon Dredge still critical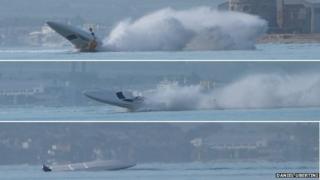 The teenage son of a champion powerboat racer remains in a critical condition after a crash in the Solent.
Simon Dredge suffered life-threatening injuries in the crash off Hamble, Hampshire, on Wednesday morning.
He was part of a four-man professional crew, training in the high performance prototype vessel.
Three other men, including his father, Peter Dredge, were injured when the powerboat crashed and overturned near Warsash Maritime Academy.
They were taken to Southampton General Hospital with non life-threatening injuries and have since been discharged.
'Lost control'
Powerboat company, Vector World Limited, said the boat was on a scheduled test run on the Solent, piloted by Mr Dredge, when it crashed.
Hampshire Constabulary said it appeared the high powered vessel "lost control" before colliding with the Hamble Point cardinal mark at the entrance to the Hamble River.
A joint investigation into the crash is being carried out by Hampshire Police Marine Unit and the Marine Accident Investigation Branch.
Posting on Facebook, British Powerboat Racing Club Chairman Markus Hendricks said: "Our thoughts are with our club member Peter Dredge and his family, our prayers are for young Simon his son, for a speedy recovery from his injuries."
Jeni Jelf from the Royal Yachting Association (RYA), where Mr Dredge was RYA Powerboat Racing Manager for many years, said: "Peter Dredge is highly regarded within the powerboat racing community.
"He is extremely knowledgeable and experienced in this type of craft. Our thoughts and best wishes go out to him, his family and all of those involved."
The Maritime and Coastguard Agency said the stretch of water where the crash happened is under the remit of Associated British Ports (ABP).
ABP confirmed there are no speed restrictions in that area, the buoy marks the entrance to the River Hamble and a number of activities, like powerboating, take place there.