Southampton hospital block for families officially opens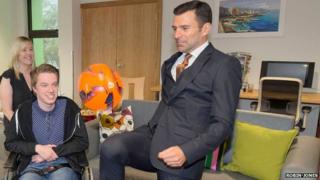 An accommodation block for families of children being treated in hospitals in Southampton has officially opened.
The 53-room building costing £7m was opened by ex-Southampton FC defender Francis Benali, who afterwards tested out youngsters' football skills.
The building allows families to stay near Southampton Children's Hospital and Princess Anne Hospital for free while their children are being treated.
Mr Benali said it was "an honour and a privilege" to open the building.
'A godsend'
Sandra Brown, a mother from Jersey who stays at Ronald McDonald House while her son is being treated for bleeding on the brain, said staying nearby "has brought normality back into our life".
She said: "It's been a godsend. I have been able to stay near Jack while he is being treated in hospital and not worry about the expense of travel to and from Jersey or paying for accommodation."
Mr Benali chatted to parents and siblings who are staying before putting some of the youngsters through their footballing paces.
He said: "I want to do all I can to encourage people to support the house and spread the word about how much it helps families in their time of need."
The building is funded by Ronald McDonald House Charities, an independent charity that provides free accommodation in or near hospital grounds across the UK.
The Southampton building is one of 14 such houses in the UK.