Mark Francois is new minister for Portsmouth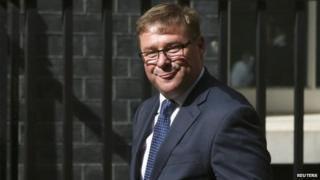 Mark Francois has been appointed minister for Portsmouth, Downing Street has said.
The MP for Rayleigh and Wickford, in Essex, replaces Matthew Hancock, who held the post since July last year.
The role of minister for Portsmouth was created in January 2014 after the government decided to move Navy shipbuilding from the city to Scotland.
The first person to be handed the role was Michael Fallon, who was in the job for six months.
Mr Francois has already been named the new Minister of State at the Department for Communities and Local Government.
Economic importance
He was previously the Minister for the Armed Forces.
He said: "As my late father served in the Royal Navy, I am delighted to be appointed as Minister for Portsmouth.
"Having spent time at the Ministry of Defence, including as Armed Forces Minister, I have visited Portsmouth on a number of occasions and am well aware of the city's importance to both the economy and the Royal Navy.
"I plan to visit the city in the near future and am determined to champion its cause across government."
Portsmouth is the only city in the country with a dedicated minister.