Customers flee as fire wrecks King's Somborne village pub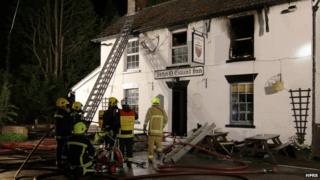 Customers in a crowded Hampshire pub were forced to flee after a fire broke out.
The blaze at John O'Gaunt Inn, near Kings Somborne, was spotted from a first floor window by a passer-by at about 21:30 BST on Thursday.
Thirty firefighters spent more than four hours tackling the blaze, which had spread into the roof space.
Hampshire Fire and Rescue Service said the fire had gutted the first floor and destroyed most of the roof.
'Everybody out'
Richard George, who was in the pub at the time, said: "A stranger put his head round the door and said 'do you know there's a fire upstairs in one of the rooms?'.
"My wife and another person went outside whilst the landlady rushed upstairs, eventually with a fire extinguisher, to do what she could. My wife returned and said 'everybody out, we are on fire'."
He added: "It went from nothing to quite a blaze in a matter of probably 10 minutes. The amount of damage I should imagine was quite considerable."
The fire service said an investigation into the cause was under way. No-one was injured.