Portsmouth World Naked Bike Ride should move, council leader says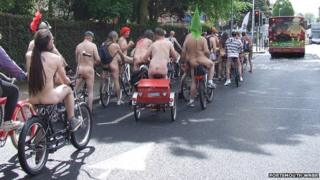 An annual naked cycling protest in Portsmouth should be moved away from tourist areas, the city council's leader has said.
Conservative Donna Jones branded the World Naked Bike Ride (WNBR) "odd behaviour" which should be held away from residential and built-up areas.
More than 70 people took part in the protest against the use of fossil fuels on Southsea seafront on Monday.
Past organiser Ian Hendon said there was "nothing anti-social" about it.
Monday's ride was the fifth time the worldwide event has been held in Portsmouth.
'Not a sex-fest'
Ms Jones said: "I do appreciate people have the right to cycle naked through the UK as long as it is prearranged, which the organisers did do.
"We have to counterbalance that with the desire of the people who are living in the area and tourists.
"In my opinion it is slightly odd behaviour."
Mr Hendon said advance notice had been given and participants ensure the event is "self-policing".
"Most people thought it was great - families came over, they were laughing, smiling and taking photos,
"There are always a few people who complain.
"It's not a sex-fest, it's a protest."
He said next year's event in the city is already scheduled for 21 May 2016.