WW1 German U-boat propeller returned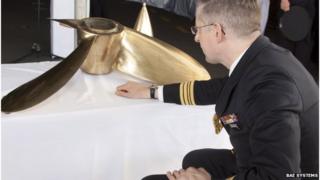 The propeller from the first German U-Boat to be sunk 100 years ago during the First World War has been returned to its homeland.
The propeller had been removed illegally from the sunken wreckage by divers and found by police in the Kent area in 2014.
It was returned to the German Navy at a ceremony aboard Karlsruhe in Portsmouth Naval Base.
The propeller was from the German submarine U-8, said the coastguard.
Charles Ball of the Maritime and Coastguard Agency said: "This shows how times have changed.
"We can transfer this historical artefact back to our friends, not just in commemoration of the sacrifices suffered by both nations, but also in celebration of what we have achieved since then."
Jan Hackstein, the German Naval Attaché, said "It is a wonderful sign of reconciliation and friendship between the United Kingdom and Germany that the propeller returns after hundred years."
According to the MCA the propeller was from the first German U-Boat to be sunk in the First World War.
The U-8 had a short career in the conflict but sank five British merchant ships before being lost herself in March 1915.
All four officers and 25 crew were taken prisoner with no loss of life.