Portsmouth's Spinnaker Tower: Painting work begins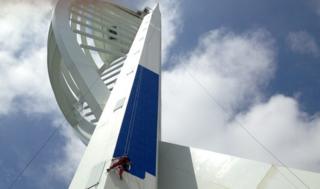 Work has begun to paint Portsmouth's Spinnaker Tower blue and gold.
A £3.5m agreement between the city council and the Emirates airline caused public outcry over an initial plan to use red.
Red and white are the colours of Pompey's fiercest football rivals Southampton and the decision was later reversed.
Workers had been due to start on the tower's legs on Thursday but delays in paint arriving held up the job.
A council spokeswoman blamed transporting supplies of blue paint from Lancashire taking longer than expected.
The council and airline made a U-turn over the colour scheme earlier this month after 10,000 people signed a petition opposing the use of red and white.
After "collective feedback" a revised design was published using blue - the traditional colour of the city of Portsmouth and its football team.
The tower is to be named the Emirates Spinnaker Tower in time for the America's Cup World Series sailing event in July.
Branding will remain in place for five years.
More than 100 litres of red paint had been purchased by the airline in readiness for the original work.
The council said it was in discussion with a number of community groups to see if they could make use of it.
The 560ft (170m) tower opened in 2005 and is owned by the council but run by a private company.
An application for advertising consent has been posted on the Portsmouth City Council website.
It states: "Brand logo and brand name will be adhered to the tower legs and lower ground signage base."
More than 20 objections have been posted. It is believed a planning committee meeting is to be held on 7 July to discuss the application.