Portsmouth 'takes more asylum seekers than other cities'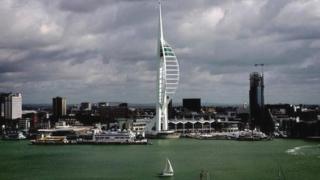 A "disproportionate number" of asylum seekers are being housed in Portsmouth compared to more expensive towns and cities, a leaked report claims.
From April to June 2015, 124 asylum seekers were housed in Portsmouth - 43% of the south east total.
But areas in the south of England, including Winchester, Chichester, Guildford, Bournemouth and Havant, took no asylum seekers in this quarter.
Portsmouth council has asked the Home Office to look at the situation.
In the leaked document, the authority said it had taken a "disproportionate number" of asylum seekers, and any more would "increase pressure" on local services.
The Home Office said it worked with local authorities to monitor closely the impact of housing asylum seekers.
'Cheaper accommodation'
Portsmouth is a designated cluster area where asylum seekers are housed by a private company contracted by the Home Office.
Southampton, another cluster area, had 61 asylum seekers in dispersed accommodation.
The leaked report said there had been: "a reluctance to open up new cluster areas in the south, possibly due to cheaper accommodation available in Portsmouth."
Councillor Donna Jones, leader of Portsmouth City Council, said, "Portsmouth really has stepped up to the plate over the last ten years.
"We're doing our bit, we have done our bit. But we have massive housing waiting lists."
Asylum seekers are dispersed to and housed in Portsmouth by the company Clearsprings, which is contracted by the Home Office.
A spokesperson for the Home Office said: "Agreements between the Government and participating local authorities are voluntary.
"We review these arrangements regularly and all asylum intake has to be approved by the local authority involved.
"We work closely with local authorities to ensure that the impact of asylum dispersals are considered and acted upon."
Analysis
Rob Powell, BBC South Today
The question of where to house refugees is being asked at every level.
National government debates how people should be divided up between countries. Local government debates how they should be divided up between regions.
When compared to other parts of the south east, Portsmouth does take a large number of asylum seekers. But when you look at country-wide figures, a different picture emerges.
Between April and June this year 124 asylum seekers were placed in dispersed accommodation in Portsmouth. The same figure for Liverpool was more than ten times larger at 1,369. Rochdale had 956. Manchester had 786.
The regional differences are even bigger: 289 asylum seekers in the whole of the South East, 7,009 in the North West and 2,646 in the North East. Cost and availability of housing are seen as the drivers for these disparities.
Experts in refugee accommodation say the dispersal programme was first set up to ease the pressure on London and the South-East - traditionally the entry region to the UK for most asylum seekers.
But with asylum seeker dispersals in the north far outnumbering the south, that aim now looks to have come full circle.