Last Titanic lunch menu sells for £58k at auction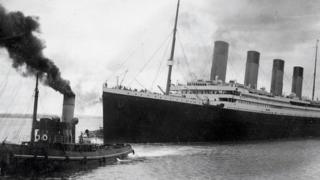 A lunch menu of the last meal served to first-class passengers aboard the Titanic has sold at an auction for £58,000.
The meal was served just hours before the ship hit an iceberg on 14 April 1912 and sank killing 1,517 people.
Dishes included potted shrimps, grilled mutton chops and apple meringue.
The item was described as "extremely rare" by New York auctioneers Lion Heart Autographs.
The Titanic sank on the fifth day of its maiden voyage from Southampton to New York.
The menu, which sold for $88,000, had belonged to surviving passenger Abraham Lincoln Salomon, a stationer from Manhattan, who died in 1959.
It is also signed on the reverse by another first-class passenger, Isaac Gerald Frauenthal, who also survived the tragedy.
Last year, the last letter to be written on the vessel sold for £119,000 at auction.