Stanbridge Earls School 'failed to protect vulnerable girls'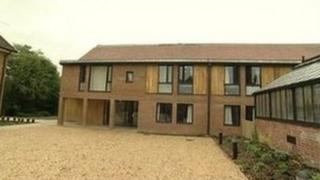 A special needs school failed to protect some of its vulnerable girls following allegations of sexual assault between pupils, a serious case review has found.
The school in question, Stanbridge Earls, near Romsey, closed in 2014.
Hampshire Safeguarding Children Board's report states police and the county's children's services "worked well" dealing with "complex events" there.
But it said vulnerable girls were not "adequately protected" by the school.
It described an "additional complexity" because "boys outnumbered girls [153 to 36] and the potential consequences of that were not adequately recognised".
Chair Maggie Blyth said the report emphasised the "importance of all schools, but particularly residential and independent schools, placing a high priority on ensuring that children are properly safeguarded".
She added that such duties "can be more complex in schools for children with a range of special needs, particularly residential schools".
'No powers'
The independent review noted the rape allegations did not lead to criminal charges, and that the council's children's services chose not to carry out a child protection inquiry.
In response, deputy director Steve Crocker said: "We will probably never know with any certainty the full extent and nature of the events that ultimately contributed to the closure of the school.
"The review generally and clearly endorses the actions [the council] took... it is important to understand that Stanbridge Earls was an independent school and, as such, the local authority had no powers over how the school was led or governed."
Hampshire Constabulary's Det Supt Nigel LeCointe called it a "complex and often challenging inquiry".
He added: "We investigated these allegations thoroughly... the Crown Prosecution Service determined that no criminal charges would be brought."
In January 2013, the school was accused by a tribunal of failing to protect a pupil who claimed to have been raped by fellow students, saying it discriminated against the pupil by excluding her.
An unannounced Ofsted inspection uncovered serious care failings, and the Department for Education rejected an action plan drawn up by the school.
It commanded fees of £40,000 a year, and taught 191 boarding and day pupils aged from 10 to 19.