Five-year-old boy finds Bronze Age arrowhead behind school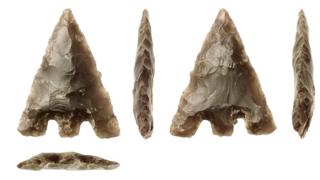 A Bronze Age arrowhead has been found on the Isle of Wight by a five-year-old primary school pupil.
The flint arrowhead was found by a boy on land behind Lanesend Primary School in Cowes.
Archaeologist Frank Basford dated the arrowhead to between 2,500 BC and 1,500 BC and said it was the "best condition" find of its kind he had seen.
Teacher Tara Hopkinson said her class were "very excited" by the find.
"We've been learning about dinosaurs and at first the children thought it was a dinosaur tooth," she added.
It is thought it may have been turned up by workmen before being found last week.
Mr Basford, of the Portable Antiquities Scheme at the British Museum, described it as "a complete Early Bronze Age barbed and tanged flint arrowhead".
He said others had been found on the island, usually unearthed by metal detecting enthusiasts, but this find was in "extremely good condition".
It has been returned to the school where it has been put on display.