Jane Austen's music collection made available online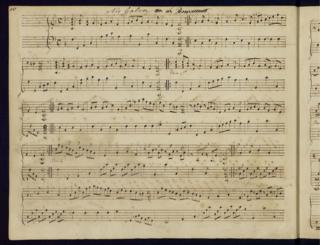 About 600 pieces of music that belonged to Jane Austen have been made available online for the first time.
The Pride and Prejudice author, who also played piano and sang, copied music by hand into personal albums and collected sheet music.
They were digitised by the University of Southampton's Hartley Library.
Project leader and professor of music Jeanice Brooks said they would help to explain the "musical environment that fed the novelist's imagination".
She added that the novels were "full of musical scenes", and the collection would provide music historians with a "unique glimpse of the musical life of an extended gentry family in the years around 1800".
In all, 18 albums of music that belonged to the 19th Century writer and her relations have been digitised.
A university spokesman said they reflected the personal tastes of their owners "just as a digital music collection on a mobile phone or MP3 device would today".
They include the music for the traditional Welsh song Nos Galan, better known today as Christmas song Deck the Halls.
Austen's sisters-in-law and nieces also contributed material.
It is thought the collection was inherited by the writer's older brother Edward Austen Knight, and brought to the family library at Chawton House in Hampshire by his daughter Fanny Knight, Lady Knatchbull.
Diane Bilbey, from Jane Austen's House Museum, said: "We are delighted that this collection can be shared with so many through digital means, and that its availability will benefit researchers and musicians alike."