WW2 Rescue Motor Launch to go on display in Portsmouth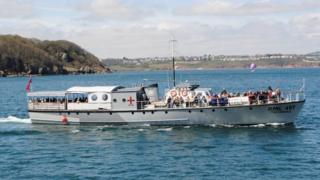 A rescue boat that saw action during World War Two before serving as a ferry for more than 60 years is to go on display in Portsmouth.
Rescue Motor Launch (RML) 497 was purchased by the National Museum of the Royal Navy for £100,600.
The museum received a Heritage Lottery Fund (HLF) grant of £90,600, and £5,000 from the Coastal Forces Heritage Trust.
Nick Hewitt, head of heritage development at the museum, called the boat "an amazing survivor".
It served with the 62nd ML Flotilla at Portland, Dorset, until January 1944, where it was used for anti-submarine missions in Kirkwall.
It joined the 69th ML Flotilla at Felixstowe and took part in a commando raid on the Channel Isles following D-Day.
'Daring missions'
RML 497 regularly rescued downed airmen during the war, but it was sold off in 1947 and renamed the Western Lady III, running between Brixham and Torquay until 2007.
It was then sold again and given another name change - as the Fairmile - and returned to its wartime colours in 2013.
Mr Hewitt described it as "full of original features and still fully operational, which is incredible for a wooden warship built for 'hostilities-only' service during the Second World War".
Stuart McLeod, head of HLF South East, said: "This vessel's daring missions during the Second World War are a little-known part of the UK's naval history."
He said the investment would create an "exciting new attraction for the historic dockyard and ensuring the contribution of those who worked on this vessel is much better-known".
Trevor Robotham, acting chairman of the trust, called it "one of only a few remaining examples of this very famous wartime design".