Portsmouth flood defence wall hole plugged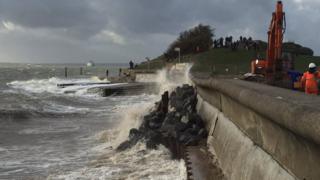 A sea wall that collapsed during storms in Portsmouth, revealing a large void, has been temporarily fixed.
About 1,000 tonnes of granite boulders have been used to plug the hole which opened up behind the Pyramids Centre in Southsea between 25 and 26 December.
Council leader Donna Jones said: "I'm very confident that what we've done will stop any further deterioration."
The authority said plans for a multimillion-pound replacement scheme for the sea defences was underway.
Portsmouth City Council said the cost of replacing the 40-year-old concrete defences was estimated at £87m.