Cat voted Southampton University Students' Union honorary president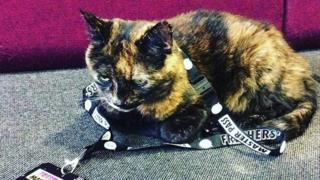 A cat which has prowled a university campus for more than a decade has been made honorary president of its students' union.
Southampton University Students' Union AGM passed a motion handing the title to the "much adored" pet, named Susu.
The puss has been a popular resident of the university's Highfield campus for years.
President Ben Franklin said the vote reflected Susu's "contribution to reducing students' stress levels".
The motion was passed by 176 votes to 86.
The motion stated: "Susu the Cat is already fulfilling an important duty by being detached from Union politics, thus providing stability and security which is greatly needed in the face of an ever-changing union."
Student newspaper Wessex Scene welcomed the vote.
"Susu is the perfect example of a student - naps, snacks, and wanting affection," it said.
The cat was first spotted at the union in 2002 when porters took pity on her skinny appearance and fed her scraps of food.
"Initially too timid to enter the building, her confidence grew and she's been living in the union ever since," its official website explains.
Susu also featured as the university's mascot on University Challenge.
The position of honorary president has only been held by one other individual, George Clegg who retired in 2009 after working for the union for 30 years.