Plea to call in UK-France electricity link plans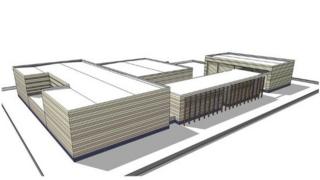 Residents have asked the communities secretary to step in over plans for a £500m UK-France electricity scheme.
The IFA2 project would see a 22m (72ft)-high power converter station built at Daedalus Airfield in Fareham.
Three resident associations claim Fareham Borough Council has a "financial interest" as it is leasing the land to the National Grid.
They have asked Greg Clark to "call in" the application to take the final decision out of the authority's hands.
Martin Marks, of Lee-on-the-Solent Residents' Association, said: "We hope this will provide a better and fairer option for local residents to be heard and prevent this monstrosity being forced upon us."
Fareham Borough Council agreed to lease the land to the National Grid in December.
If it goes ahead, undersea cables would run for more than 100 miles between the two countries.
A connection building in France would be at Tourbe in Normandy.
The project would allow both countries to exchange enough power for a million homes, according to National Grid.
National Grid said work could start on the site in late 2017, with the electricity interconnector up and running by 2020.
IFA2 is a joint project between French power transmission operator Réseau de Transport d'Electricité (RTE) and National Grid International Limited (NGIL), a subsidiary of National Grid.