Gymnast's one year handstand challenge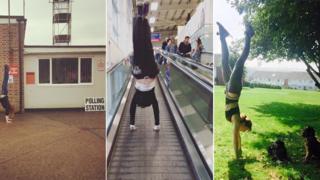 A gymnast is carrying out a charity challenge to perform a handstand every day for a year.
Justine Allingham from Portchester, Hampshire has been photographed standing on her hands at hundreds of sites in southern England.
The former martial artist, 24, has flipped upside down on a bouncy castle, outside an EU referendum polling station and at several fire stations.
She is raising money for The Fire Fighters Charity.
Ms Allingham, who works as a licensing officer, is more than 300 days into her challenge and has performed handstands at Winchester Cathedral, Portsmouth's Spinnaker Tower and the Ageas Bowl cricket stadium.
She was inspired to begin the quest by her stepdad, Ian Harper, is a firefighter for Hampshire Fire and Rescue Service.
"My connection with the fire service is through my stepdad, and it is through him that I know how much they do,
"I think it takes a very special kind of person to do the things they do and risk their lives to keep other people safe. They are heroes," she added.
Many of her hand stands have been captured on camera and shared on her social media feeds.