Summer Southampton Airport firefighter strike 'unlikely'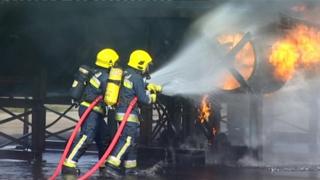 Two unions have said it is now "unlikely" that firefighters will go on strike at Southampton Airport.
Action by members of Unite and Prospect had threatened to close the airport this summer.
The unions said an agreement had been reached in principle with AGS Airports Ltd over planned changes to pensions and pay.
It said the deal, which would save the firm around £3.5m a year, would now be taken to members for approval.
The two unions opened ballots for industrial action at three airports - Southampton, Aberdeen and Glasgow - sold by Heathrow Airport Holdings in 2014.
The unions said AGS planned to replace a final salary pension with an "inferior" scheme.
In a statement, the unions said "positive" talks had been held at the conciliation service ACAS on ways for the final salary scheme to remain open for existing members.
The negotiated settlement also includes pay deals.
United spokesman Shaun Noble said: "It looks unlikely that there will be any industrial action at this stage."
A spokesman for AGS Airports Limited said: "All parties have compromised to reach an agreement in principle which... removes the risk of industrial action."