Portsmouth city centre development deal scrapped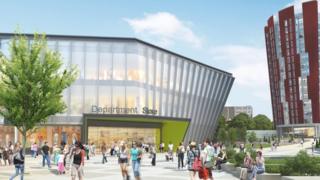 Portsmouth City Council has decided to scrap a twelve-year-old regeneration deal for the city centre.
Plans for the so-called Northern Quarter site have been discussed since 2004, when the Tricorn shopping centre was demolished.
Nothing has been built since developer Centros won planning permission for a scheme valued at £500m in 2005.
The council said it had formally agreed to end the deal and create a new scheme with the land owner.
The Northern Quarter scheme would have involved the demolition of dozens of properties to make way for new shops, a leisure hub and housing.
Council leader Donna Jones said: "The scheme fell over in 2008 when the recession hit."
The Conservative councillor said the authority would work with leaseholder advisors Delancey to design a new outdoor shopping village on the site.
She said the council was also applying for public funds towards a £36m road scheme to open up land for new housing.
The council's head of property investment, Tom Southall, said the Centros agreement was "no longer usable for future development" because of its structure and financing.
He said the authority would be recovering more than £450,000 in costs from the firm, now called Sovereign Centros.
Local shop owner Les Fox said the area was quiet since the Tricorn Centre was demolished and replaced by a large outdoor car park.
He said: "About ten or fifteen years ago I remember you couldn't go up the street on the weekend. The whole city centre has suffered. It needs redeveloping, it's a wasted space."