Swarm of bees descends on Porsche at Basingstoke Malls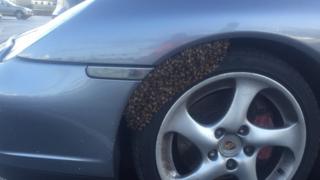 Thousands of bees had to be removed by pest controllers after setting up camp in the wheel arch of a sports car.
It is thought the swarm was seeking shelter from a rain storm when they descended on the car park of Basingstoke Malls on Monday.
It took specialists two hours to move the bees into a bucket before taking them to a wood to be released.
Centre property administrator Sue Harris said: "Our manager joked they were looking for a Bee MW."
Pest controller Shane Jones, who dealt with the swarm, said: "We normally find them hanging on trees or on walls, but this one was special.
"People normally call us out to destroy things, but it's nice to save and look after something."
In May, thousands of bees swarmed over the back of a car in Haverfordwest, west Wales after their queen was thought to be stuck in the boot.