Isle of Wight Shanklin Cliff Lift reopens after repairs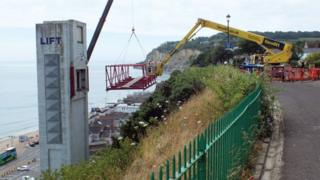 One of two seaside cliff lift carriages forced to close after a series of technical faults has reopened.
Shanklin Cliff Lift on the Isle of Wight was hampered by problems following initial repairs carried out last year, and had been closed since March.
The council said upgrade works were hit by "numerous challenges".
These included a difficulty in sourcing parts for the structure, which was built in 1957.
The lift was closed by Isle of Wight Council in March last year because of concerns about the metal footway at the top of the 150ft (45m) cliff.
This was replaced with a temporary bridge but the control system was then found to be faulty.
The latest phase of repairs has seen machinery replaced, the electrical controls upgraded and one lift carriage replaced. The second carriage will be replaced "in the next few weeks", the authority said.
The temporary bridge is expected to be replaced with a permanent structure before Easter next year.
Shanklin Cliff Lift
The first cliff lift on the site was built in 1892
The original lift deteriorated over time and was further damaged during World War Two
The first cliff lift was eventually demolished in 1957
Construction of the current lifts took place in 1957 and opened to the public in 1958
Each lift holds 20 people and travels 33.8m (110.8ft) up and down the cliff in 33 seconds