Marchwood waste plant fire causes 'toxic smoke'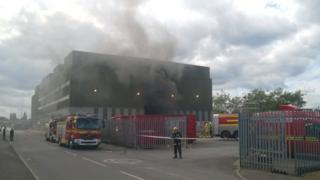 Residents near a waste plant fire in Southampton were advised to shut windows and doors because of a plume of "toxic smoke".
The fire took hold of around 200 tonnes of general household waste, at the Southampton Recycling Centre on Marchwood Industrial Park.
More than 100 firefighters and other emergency personnel attended the Biffa site from about 12:30 BST.
Hampshire Fire and Rescue Service later said the blaze was under control.
Smoke billowed over Southampton Water, away from most local houses.
Fire service manager Kev Evenett said: "The smoke plume is toxic but weather conditions are ideal and we don't see any issues with members of the public."
He said the fire, involving "sorted household waste", was "substantial and deep-seated" and crews would remain on site to check for hotspots.