Former Portsmouth-based aircraft carrier HMS Illustrious sold for scrap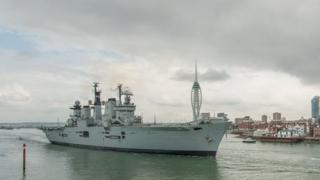 The former aircraft carrier HMS Illustrious is to be scrapped, the Ministry of Defence (MoD) has announced.
The Royal Navy warship is to follow Invincible, and Ark Royal to a Turkish scrap yard.
It had been hoped the ship, put up for sale by the MoD, could be saved as a tribute to the decommissioned Invincible Class aircraft carriers.
The ship is expected to leave Portsmouth for Turkey in the autumn.
In October 2013, the MoD sought innovative bids to keep the aircraft carrier in the UK.
It had hoped part or all of the ship could be developed for heritage purposes.
---
HMS Illustrious
The fifth warship and second aircraft carrier to carry the name Illustrious
Sailed 900,000 miles on operations across the globe over 32 years
Was rushed into service in 1982 in the aftermath of the Falklands War
Helped to maintain a no-fly zone in Bosnia in the 1990s and did the same in the Arabian Gulf in 1998
Took part in operations in Sierra Leone and the aid mission in the Philippines after Typhoon Haiyan in 2013
Decomissioned at a ceremony in Portsmouth in 2014
---
'Heavy heart'
The MoD said: "While a number of bids were received, none proved to be viable."
It said the ship had been sold to a Turkish ship recycling company, raising about £2m for the ministry.
Mike Utley, former commanding officer on HMS Illustrious, said: "We will bid her farewell with a heavy heart but in the knowledge that everything has been done to find a use for her."
The 22,000-tonne ship, based at Portsmouth, left service in 2014 after 32 years.