Civilian names added to Portsmouth WW2 memorial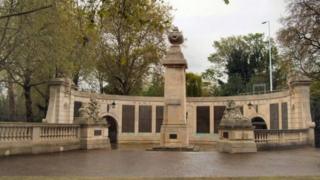 The names of 1,000 civilians who were killed in Portsmouth during World War Two have been added to the city's war memorial.
Many were killed in heavy bombing raids in the early 1940s.
The names have been added after a 27-year campaign by Jean Louth, whose father Harry Short died at Dunkirk.
The updated memorial, in Guildhall Square, was officially unveiled during a ceremony which was held at 11:00 BST.
The memorial, which was first unveiled in 2005 by Princess Alexandra, commemorates service personnel and civilians from Portsmouth who died during World War Two.
A campaign to raise funds to inscribe all 3,000 names - with a single name costing about £30 to engrave - has now been completed.
'Sorrow and heartache'
Ms Louth, of West Leigh, who led the campaign, said it was "the culmination of 27 years of work".
"I feel quite pleased that I have been able to do this, because I'm just an ordinary woman, I'm nobody special," she added.
"[The memorial] will be there long after I'm gone now - the names of those that died for their country, plus all those in Portsmouth who were killed through no fault of their own."
One of the civilians named on the memorial is Alfred Andrews - an air raid warden who was killed in 1941 as he tried to save people caught in a heavy bombing raid in Portsmouth.
His grandson Philip Harris said it was important to remember civilians as much as those in uniform.
"We must remember that all casualties in war leave behind a lot of sorrow and a lot of heartache in families, and they're worth remembering as much as those that fight on our frontline," he said.