Boldre Hoard: Appeal to stop Roman coin collection split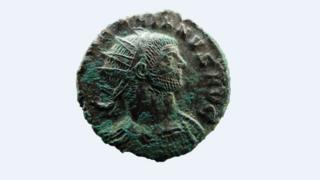 Campaigners have launched an appeal to keep a hoard of Roman coins in the New Forest.
A total of 1,608 coins dating to the 3rd Century were found by a metal detector user in Lymington in 2014.
The town's St Barbe Museum and Art Gallery is trying to raise £30,000 to stop the so-called Boldre Hoard collection from being split up.
Some experts had wanted some of the coins to be kept at London's British Museum.
The hoard has officially been defined as "treasure" by the British Museum and Coroner.
Some of the coins have been released to St Barbe Museum and Art Gallery for its appeal, with the others are being stored in a "secure location", a spokeswoman said.
'Unrecorded reverse'
BBC television presenter Dan Snow, who has backed the appeal, said: "They were all found here, they were buried here by one of our New Forest ancestors and they should be enjoyed here - they will be the centrepiece of the Lymington museum."
Rosalyn Goulding, of the museum, said the coins were an "exciting" find for the town.
"We haven't had too much evidence of Roman activity here but this find helps us to build up a picture of settlement and agriculture," she said.
"One of the coins is really interesting because it has an unrecorded reverse.
"The emperors would strike a series of coins and they each had a pattern to them - they would have similar things on the front and on the reverse - but this one had an altar on the back which has never before been seen on a Divus Victorious coin, or any coins issued by Victorious."
The British Museum said it did not wish to acquire the hoard and always supported local acquisition.