Harry Redknapp 'runs over' wife Sandra in 'freak' accident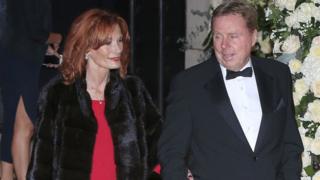 Harry Redknapp's wife was seriously injured when she was run over by a Range Rover driven by the former football boss.
Witnesses described seeing Sandra Redknapp, 69, get her coat caught under the car as her husband pulled away.
The Sun newspaper reported Mrs Redknapp "yelling in pain" as she fell to the ground in Poole Road, Bournemouth.
The wife of the former Tottenham Hotspur manager was rushed to hospital on Tuesday after the "freak accident".
The Sun reported that Mrs Redknapp had been dropped off at the shops by her husband in his Range Rover when she got her coat and foot caught.
Mr Redknapp, also 69, had been dropping his wife off in Westbourne, which is four miles away from the couple's £5m home in Sandbanks and reportedly didn't realise that his wife was stuck and drove away.
Speaking to the BBC, the former Bournemouth, West Ham and Portsmouth boss said: "It was just a freak accident you know.
"Sandra went across the road and unfortunately she had gone behind the car to cross over the road and as I went to drive off I drove over her ankle.
"Its lucky, if the full weight of the car had gone over the ankle god knows what would have happened to her. We're ok.
"She had an operation on her ankle that went well."
South Western Ambulance Service confirmed crews were called to Poole Road, in the Westbourne area, at 11:49 BST.
Witness Rebecca Forrester from Bournemouth said she saw Mrs Redknapp's coat get caught underneath the vehicle.
She said: "People were really concerned and Harry was quite stressed, she was shocked and couldn't move her legs.
"It was obvious she was seriously hurt. I didn't realise until after who it was. It was obviously an accident."
The couple returned home 24 hours after the accident took place and Mrs Redknapp was pictured walking on crutches with her right leg in a cast.