Community-run Ryde Arena ice rink in voluntary liquidation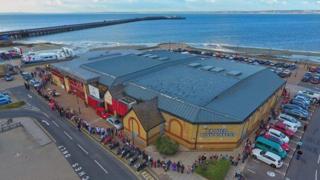 A company that was set up to rescue Isle of Wight's only ice rink almost two years ago has gone into voluntary liquidation.
Ryde Arena Ltd was run by local people, but got into financial difficulty after the arena was damaged by storms.
The decision follows a meeting with the group and Business Recovery and Insolvency (BRI) on Thursday.
Joint liquidator Alan Limb said non of the firm's volunteers had been paid.
Ryde Arena Ltd signed a £156,000-a-year lease to take over the rink in April 2015.
The group's landlord, AEW UK, which shut the rink in October, said it was owed about £200,000 in rent, but has refused to comment on the insolvency or its plans for the site.
Ryde Arena Ltd had been trying to negotiate a lower rent following storm damage to the building last November, it said.
'Unbalanced playing field'
"By going into voluntary liquidation staff can actually apply for redundancy," said arena chairman Ian Jenkins.
"It isn't a nice realisation when you go out to achieve something and you end up in a massive, unbalanced playing field."
Mr Limb said Ryde Arena Ltd had devoted a lot of time to the ice rink.
"I don't believe any of the directors or any of the people that have been involved with the company have been paid anything at all - they were all volunteers," he said.
Some customers paid in advance for skating at the arena and have not yet been refunded.
Mr Jenkins apologised, but said: "We didn't take people's money knowing that there would be a door closure."
The freeholder, Isle of Wight Council, said a 15-year condition that the site had to contain an ice rink expired in February.