Southampton begging fine 'like being kicked'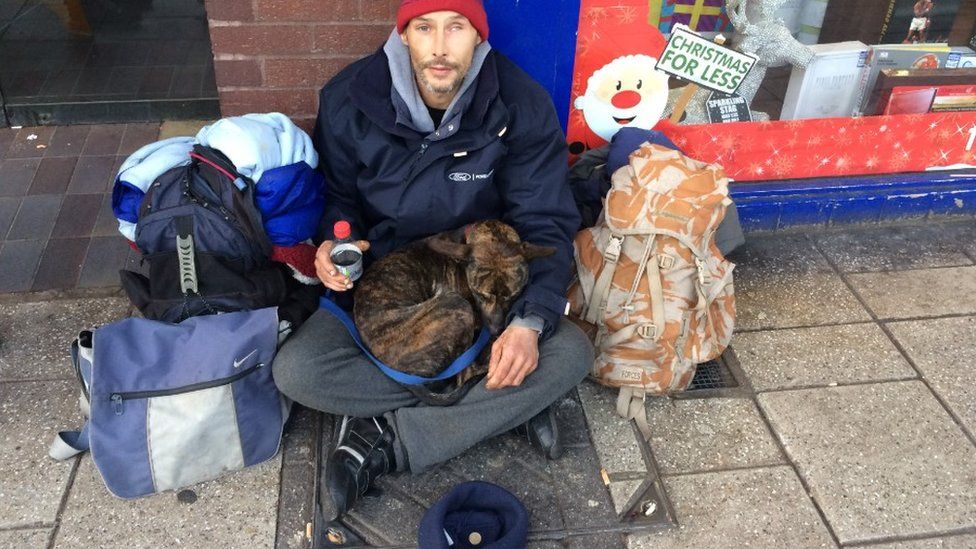 Homeless people in Southampton have described being handed £100 fines for begging as "like being kicked".
The Public Spaces Protection Orders (PSPOs) were brought in on 29 April to five areas.
Jamie Royall, who is homeless and has been fined, said: "It's ridiculous, it's like trying to get blood out of a stone."
The council said it had handed out 12 of the £100 fines to date, but none had yet been paid.
Mr Royall described the fines as "a dirty trick", adding: "The one's who aren't homeless and are taking money for drugs should be fined. But people who are legitimately homeless shouldn't have the fine.
"Why fine someone whose already on the floor, it's like being kicked whilst you're on the floor.
"If I beg I don't steal, I know it's against the law but how are we meant to pay it?"
The fines were brought in by the authority as a number of beggars were found to be "fraudulent" and not actually homeless.
Conservative councillor Jeremy Moulton said: "The scheme has definitely been a failure to date.
"Those that are genuinely homeless need to be supported and those that are begging professionally need to be stopped."
Campaign group Liberty said it was calling on the government to get rid of the powers.
A spokeswoman said: "They don't work and we think it's time that they were reviewed."
The authority said one person is currently being prosecuted for non-payment of the fine.
Public Space Protection Orders
The orders, introduced in the Anti-Social Behaviour, Crime and Policing Act (2014), give councils extra powers to deal with "detrimental" and "persistent" behaviour
Examples have included using "foul and abusive language" (Salford) or "gathering in groups of two or more persons" (Hillingdon)
Fixed penalty fines of £100 can be issued by police or council officers
Non-payment can lead to a criminal record and a fine of up to £1,000
Described as "vague" and "disproportionately punitive" by campaign group Liberty, the government has said they can deal effectively with nuisance behaviour
Related Internet Links
The BBC is not responsible for the content of external sites.