'Sexist' Hampshire library bookmarks criticised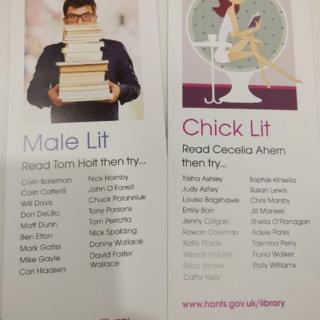 Two bookmarks promoting male and female-only novels have been criticised as "sexist" by a Hampshire author.
One of the county council-produced bookmarks features the words "Male Lit" and the names of 18 male authors, while the "Chick Lit" bookmark only mentions female writers.
Author Lucy Cruickshanks, who found the bookmarks at Eastleigh Library, said: "Everything about them wound me up."
Hampshire Libraries said they were now being withdrawn.
Cruickshanks, whose books include The Trader of Saigon, tweeted a picture of the bookmarks and said: "I will defend libraries until my dying breath but everything about this makes me mad. Come on @hantslibraries. You're better than that."
'No offence intended'
She said her criticisms included the "images of a bespectacled man with a stack of very serious looking tomes and a wisp-thin woman drinking coffee, to the fact that not a single female author was recommended to men and visa versa".
"Libraries are so important in broadening minds and challenging preconceptions, and I hope another error like this doesn't slip through," she added.
"It shows such ignorance about the authors and their readers and undermines all the great work libraries otherwise do."
Hampshire Libraries said: "No offence was intended and the bookmarks are being pulled from circulation. We'll consider promotion of this kind carefully in the future."
It added: "The lists were made with the best of intentions some time ago to promote recognised genres of fiction."