'Chilling repression' leads to Southampton conference move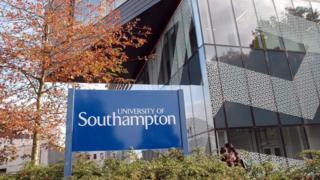 An academic conference which raises legal questions about the state of Israel has got under way at the third attempt.
The three-day meeting opened in Cork, Republic of Ireland, after two failed efforts to hold it in Southampton.
The organisers, two professors from the University of Southampton, accused their employer of blocking the event in 2015 and 2016.
The university said it supported "freedom of speech within the law".
Academic freedom
Ahead of the cancelled 2015 conference, the pro-Israel The Zionist Federation UK garnered more than 6,700 signatures opposing its staging, while a counter-petition signed by more than 800 academics urged the university to resist the pressure.
The university said it withdrew permission for the event because "the safety of staff, students and visitors could not be guaranteed".
A second conference due to be held in 2016 was cancelled when the university imposed conditions including a £25,000 fee to cover policing and security costs.
In April 2016, professors Oren Ben-Dor and Suleiman Sharkh lost a High Court case in which they had argued that the cancellations put "academic freedom" at stake.
In the court ruling, Mrs Justice Whipple said: "Freedom of expression and freedom of assembly at the university are alive and well".
Prof Sharkh said on Friday there were no demonstrators outside the conference in Cork.
He said the move from Southampton reflected a "chilling repression of academic freedom when it comes to critique of Israeli state policy".
The conference's keynote speaker, Prof Richard Falk, has previously said Israel's actions in the Palestinian Occupied Territories possessed characteristics of colonialism and apartheid.
The University of Southampton said it had "an excellent track record of supporting free speech and remains committed to its legal obligation to ensure that freedom of speech within the law is secured for all of its staff, students and visiting speakers".