Portsmouth Invincible warship excavation date announced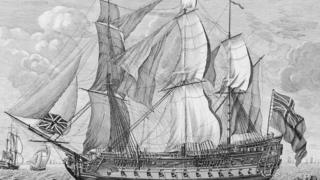 A date for the underwater rescue of an 18th Century warship has been announced.
Work to excavate the Invincible from the Solent will start near Portsmouth next month.
The ship is viewed as the missing link between the Mary Rose and HMS Victory and was used as a design model by Admiral Lord Nelson for half his fleet.
The excavation has been made possible by a £2m grant authorised by George Osborne on his last day as chancellor.
Mr Osborne approved the grant, funded by fines imposed on banks involved in the Libor scandal, to carry out the mission, which will take four years.
The last mission of this kind was the excavation of the Mary Rose in 1982.
The project is being led by the Maritime Archaeology Sea Trust, Bournemouth University and the National Museum of the Royal Navy, who plan to display relics recovered from the wreck.
Excavation works are expected to start on Monday 22 May.