Bus to be revamped into Portsmouth homeless shelter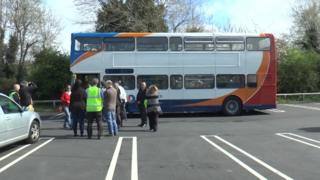 A double-decker bus is being transformed into a homeless shelter in Portsmouth.
The former Stagecoach vehicle has been donated to The Rucksack Project.
It is being revamped to provide 12 beds upstairs, plus a kitchen and toilet facilities downstairs.
Once completed, Joanne Vines from the the organisation said it would be donated to a local homeless charity and either be driven around or used as a static facility.
Wood has already been donated to fit-out the inside of the bus and an architect is drawing up designs, Ms Vines added.
She said tradesmen, including carpenters and electricians looking to "give something back to the community", were still being sought.