Arson arrest after Southampton Redbridge Towers fire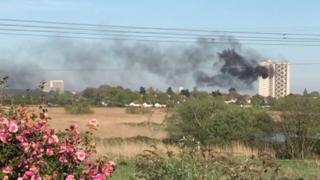 A 28-year-old woman has been arrested in connection with a fire in a high-rise block of flats in Southampton.
Firefighters tackled the blaze on the 12th floor at Redbridge Towers, Cuckmere Lane at 17:25 BST on Sunday.
A woman in the flat where the fire broke out was treated for smoke inhalation, along with several other residents.
The arrested woman, accused of arson with intent to endanger life, remains in custody.
Crews spent three hours tackling the flames in the 19-storey building.
The fire service said no one was seriously injured. Police and fire crews remain at the scene.
Numerous residents in homes nearby also had to be led to safety.