Man guilty of high street murder attempt in Portsmouth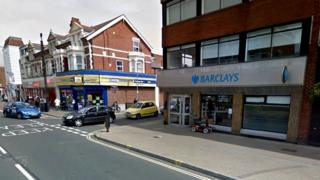 A man has been found guilty of attempting to murder his brother's partner by stabbing her in the back with a kitchen knife in a busy street.
Diana Pranskuniene, 35, was attacked in London Road, North End, Portsmouth, at about 15:20 BST on Saturday 9 July.
Dler Fariq Mohammed, 43, had hidden the knife in a nearby loading bay earlier that day, a jury heard.
Mohammed, of no fixed address, will be sentenced at Portsmouth Crown Court on Monday.
'Ruined my life'
The court heard the offender was unhappy about being denied access to his five children, who were being cared for by his brother and Ms Pranskuniene.
On the day of the attack, he shouted, "You have ruined my life", before plunging the blade into his victim's back and running off.
Three men gave chase and cornered Mohammed in a doorway.
Police said a nurse may have saved Ms Pranskuniene's life by leaving the knife embedded in her back, preventing internal bleeding.
Det Con Matt Curson said: "Diana miraculously didn't have anything wrong with her and was released from hospital 24 hours later."
He said Ms Pranskuniene had suffered psychological trauma but was "doing well".