History-making Maiden yacht in Southampton restoration return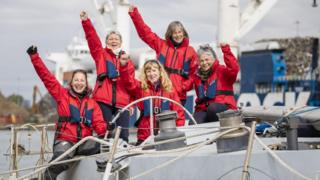 A famous ocean racing yacht has returned home to Southampton 27 years after it carried the first all-female crew around the world.
Maiden made history in 1990 when its female crew, led by Tracy Edwards, became the first to sail the Whitbread Round the World Race.
The team won two legs of the race and crossed the finish line second overall.
Following restoration work in Southampton it will embark on a global campaign to promote girls' education.
The 58ft (17m) boat was sold shortly after the race and was recently found in disrepair in Mahé, Seychelles.
It arrived on Monday via cargo ship and was brought into Hamble in Hampshire. The yacht is expected to be lifted from the water to begin its refit later.
It is due to set off in August 2018 on "The Maiden Factor", a global campaign to promote education for girls.
The project aims to support charities that are working to teach or mentor girls up the age of 16 who are currently unable to access an education.
Tracy Edwards MBE said: "It's shocking to me that over 61 million girls around the world are still denied one of the most basic rights; access to education.
"The crew of Maiden faced many obstacles and prejudices. Very few people believed an all-female crew could complete the race.
"Now we would like to do the same for [future young] women around the world, who are being denied an education and the opportunity to reach their full potential."
The project is being supported by Princess Haya Bint Al Hussein of Jordan in memory of her father, King Hussein I.