New Forest visitor centre: B&Bs 'like tour guides' after closure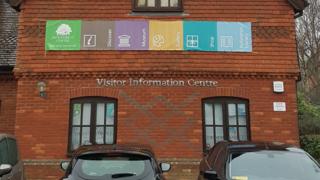 B&B owners in the New Forest say they have had to take on the role of tour guides since the park's information centre closed.
The celebrated woodland became England's only national park without a dedicated visitor centre after the council-run facility shut in January.
Accommodation providers said visitors are "shocked" at the lack of a "human interface" for tourists.
The council said visitors were increasingly planning visits online.
The New Forest District Council review of tourism services said the centre was used by about 130,000 people in 2016, down from more than 300,000 in the 1990s.
It had annual running costs of more than £80,000.
'Knowledge lost'
B&B proprietors told the BBC the closure of the centre has forced them to attempt to shoulder its workload.
Cheryl Maher, who runs Daisy Bank Cottage B&B in Brockenhurst, said she was having difficulties sourcing promotional material for her guests since the closure.
With large parts of the forest having poor 3G and 4G mobile internet coverage, she said she was now encouraging guests to plan their visit before they arrive.
"It's crazy we're encouraging foreign visitors but they're the people who turn up knowing nothing and we've lost the opportunity to showcase what we've got.
"The staff who worked there had so much knowledge."
Mike Wrona, of Temple Lodge in Lyndhurst, said the closure had been "diabolical".
"The area gets most of its revenue from tourism, but there is nowhere to tell them what to do. It's pretty narrow minded."
"I can give guests as much information as I can, but I can't know 100% of what's going on. It's a difficult market and people like that human interface, especially foreign visitors."
Following the review, marketing of the New Forest has been taken over by not-for-profit company Go New Forest.
Chief executive Anthony Climpson acknowledged the closure was "a shame and a disappointment" but said 150,000 printed discovery guides had been produced for visitors.
"Since the heyday of the tourist information centre, the ability to subsidise free information from the public purse has diminished.
"The focus is on creating better quality digital information, while recognising that not everyone has access to the internet."
The National Park Authority said it was spending up to £10,000 on a "concierge" service in Lyndhurst, providing advice on walking, cycling and attractions between June to September.