Milford-on-Sea £2.3m seafront revamp unveiled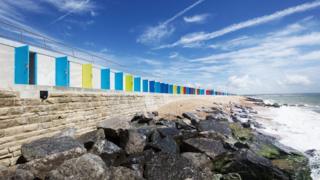 New beach huts built to replace those lost in the St Valentine's Day storm on the Hampshire coast in 2014 have been handed to their owners.
Most of the privately-owned concrete huts at Milford-on-Sea were destroyed during the storm, with the rest later requiring demolition.
New Forest District Council said the huts had been set into the promenade "to reduce exposure to the elements".
The authority said the 119 huts, new promenade and sea wall had cost £2.36m.
It said owners had made a "substantial contribution" towards the replacement huts and the expenditure of the project would be recouped over time through licence fees.