Freshwater Bay human hand remains confirmed as female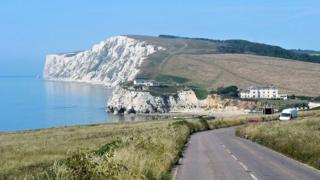 A human hand found washed up on an Isle of Wight beach has been confirmed as remains from a female's body.
Tests have been carried out on the hand following the discovery at Freshwater Bay on 28 December.
Initial analysis on the remains, which were found by a dog, revealed it had been in the water for a significant amount of time.
Hampshire Constabulary said officers had yet to confirm who the hand had belonged to and inquiries are ongoing.
It has not yet been established if the remains washed up on the beach from the sea burial site, near the Needles, the extreme westerly point of the Isle of Wight.