Mary Rose ship crew 'to be identified using DNA'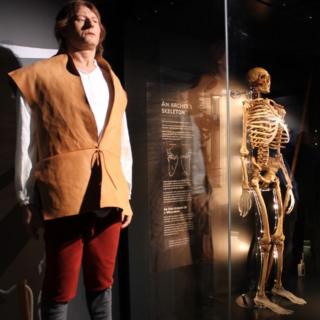 Scientists examining human remains from Henry VIII's flagship Mary Rose are hoping to reconstruct skeletons of some of its crew using DNA.
Previous attempts to reform the bodies were based on "physical matching", including bone size, and not DNA.
It is hoped more faces of some crew members can then be recreated.
The University of Portsmouth research will also enable scientists to learn more about their heights, ages and where they came from.
Only 35 of about 500 men on board, including officers, soldiers, gunners and mariners, survived the sinking of the ship in the Solent in 1545, according to contemporary records.
Remains of about a third of those who drowned have been found.
The university said 92 skeletons had already been partially reconstructed using a physical study of the bones, and forensic scientists have recreated the faces of seven men, using their skulls.
The latest study, funded by the charity The Pilgrim Trust, is an attempt to match bones belonging to individuals using molecular biology.
Dr Garry Scarlett, a DNA expert at the university, is leading the research in partnership with the Mary Rose Museum in Portsmouth, which houses a cross section of the ship's hull as well as thousands of artefacts, including weapons, jewellery, furniture and medical equipment.
"I hope, once we have determined for certain which bones belong with which, some whole skeletons might be able to be reassembled," Mr Scarlett said.
He said DNA analysis could potentially allow descendants of the crew to be traced but added that was "well outside the scope of this study" and would require further funding.
However, he said he did not think studying the skeletons would reveal why the ship sank while defending England from a French invasion.
The vessel was rediscovered by divers in 1971 and excavated between 1979 and 1982, when the hull was raised.
Further excavation between 2003 and 2005 revealed timbers from the bow of the ship.