Parkour teen's ashes to be scattered around the world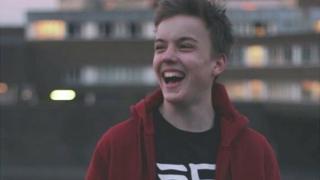 The ashes of a free runner killed on the Paris Metro will be scattered around the world, his family says.
Nye Frankie Newman, 17, from Aldershot, was involved in a train accident on the Metro on New Year's Day.
His mother, Deborah Malone-Newman, said Nye's ashes were being given to family and members of his parkour group to take on their travels.
The family hopes to have Nye's ashes scattered in 100 countries.
More on this and other stories from across the South of England.
Ms Malone-Newman insists the accident on 1 January was not due to "train surfing".
She said: "It was a trip that was not solely for parkour purposes.
"He was sightseeing with his girlfriend - they were on their way to the fireworks - he was trying to take a picture, popped his head out the train door and a heavy object hit his head."
Investigations are continuing into Nye's death with a pre-inquest review hearing expected to take place on 22 May.