Thieves steal £86,000 from Southampton cash machine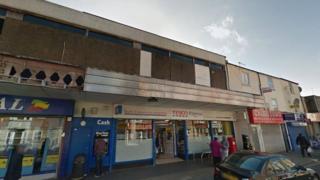 Raiders stole £86,000 from a cash machine attached to a Tesco branch while the shop was open.
Burglars broke into the ATM next to the Express store in St Mary's Street, Southampton, on Sunday afternoon.
They entered through the store's roof, police said, and would have needed to make several trips.
Two men carrying large blue bags were seen running across the rooftop at about 14:40 BST. They fled the scene in a red van.
More on this and other stories from across the South of England.
Det Con Miles Wilson of Hampshire Constabulary said the "well planned burglary" took place in a busy residential area.
"We would like to speak to anyone with information regarding this incident and anyone who saw these men or a red coloured van on Golden Grove on Sunday afternoon," he added.
According to the shop's website, it is open from 06:00 until 23:00 every day.