Van left hanging over pedestrian underpass in Havant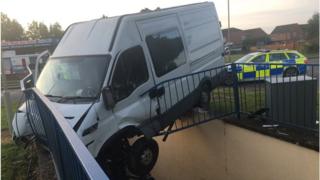 A crashed van was left wedged over a pedestrian underpass by a man suspected of driving while drunk.
Police said no other vehicle was involved in the accident, which happened at the junction of Petersfield Road and Stockheath Road in Havant, Hampshire, at 05:00 BST on Sunday.
A 37-year-old Waterlooville man has been charged with driving a vehicle with an alcohol level above the limit.
He has been bailed to appear before Portsmouth magistrates on 6 June.