Gosport conman jailed for swindling land sales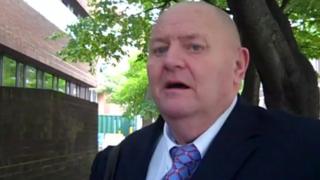 A man who pretended to be a landowner to con people out of their money has been jailed for six years.
Barry Leigh, from Gosport, duped his victims out of £600,000 by persuading them to buy land through his company Dream Coastal and Country Homes.
The court heard how Leigh used his "skills of persuasion" to get victims to pay him for land he did not own.
He was sentenced at Portsmouth Crown Court, having previously pleaded guilty to six out of 14 charges.
'Money laundering'
In April, he admitted fraudulent trading between August 2013 and July 2014, two charges of fraud by false representation, forgery of a bank statement, use of a false instrument and money laundering.
He also showed an estate agents a forged bank statement, showing he had funds of more than £980,000 as he tried to secure deals.
Sentencing, Judge Roger Hetherington said: "I regard this as fraudulent incompetence and naivety rather than an intentional case of fleecing individuals".
In a letter read to court, Leigh said he was "truly ashamed" he was the cause of such "devastation" to the lives of his victims.