Binstead boy, 10, 'killed by duvet cover curtain'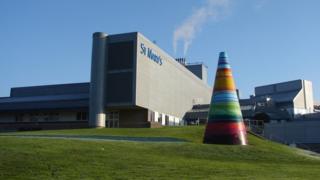 A 10-year-old boy with Down's syndrome died after becoming tangled in a duvet cover which was being used as a curtain, an inquest heard.
Ashton Tuckey was found by his mother who thought he was looking out of the window at their home in Binstead, Isle of Wight, the hearing was told.
Jodie Tuckey brought his body outside and shouted for neighbours to help.
Ashton was pronounced dead in hospital from "compression to the neck" in December 2014.
More on this and other stories from across the south of England.
'Devastating' scene
Neighbour Jennet Scribbens said Ms Tuckey told her Ashton had gone quiet after playing.
"She spoke to him but he didn't answer, she went towards him and realised he was lifeless, hanging from the curtains," she told the hearing.
Another neighbour, Olga Kirwood-Slack, recalled the "devastating" scene on the afternoon of 7 December 2014.
She said Ms Tuckey called out: "Help me, help me, please. He's going to go, I do not want him to go, I love him."
'No concerns'
PC Hannah Pothecary said Ms Tuckey told her at the hospital: "It's all my fault, why did I have that stupid curtain and why did I think he was just looking out of the window."
The inquest heard Ms Tuckey was too unwell to attend the hearing.
Ashton's grandmother, Kathleen Tuckey, 64, said the duvet cover had replaced black-out blinds which the family thought were less safe.
"No-one had raised any concerns about the duvet in the past, social services had seen it and not made any comments," she added.
She said her daughter, who is diagnosed as autistic, "struggled" to deal with her own problems but "loved her children".
The inquest in Newport, Isle of Wight, continues.