Southampton University staff pay cut 'outrageous'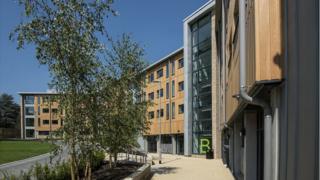 A union has organised a strike ballot over an "outrageous" pay cut for university student support workers.
Unison said the staff at the University of Southampton would lose up to a fifth of their take home pay because of cuts to night-time allowances.
It said the reduction would amount to around £6,000 before tax for the average worker.
The university said the 42 affected staff would receive a "compensatory payment".
More on this and other stories from across the south of England.
Unison said the staff, who worked permanent evening or night shifts in halls of residence, could not afford cuts to their gross pay of between 18% and 20%.
The union's regional head of higher education, Mike Wilson, said: "For an employer that pays around £400,000 per year to its vice-chancellor, these imposed pay cuts on hard-working, low-paid staff are an insult."
He said the university had deemed the workers "too expensive", even though it had recently made £300m from a bond issue on the London Stock Exchange.
In a statement, the university said the allowances were "out-of-line" with its other staff who worked unsociable hours.
It said it was creating a new student support team "moving to halls-based pastoral care... 24 hours a day, seven days a week - with a great emphasis on proactive and preventative work".
The strike ballot will close on 7 June.