Cowes 'floating bridge': MCA clears chain ferry for use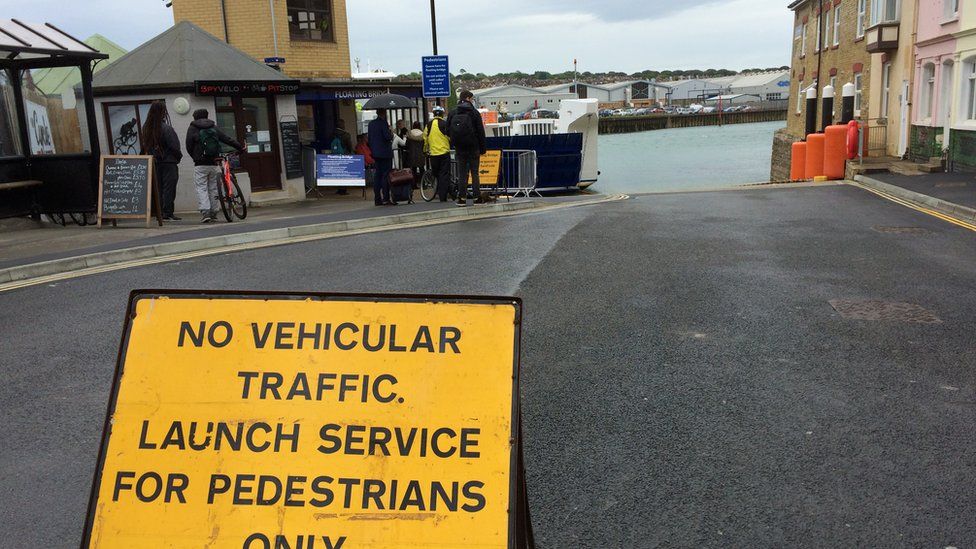 Businesses should be compensated for their losses during the suspension of the Isle of Wight's new "floating bridge", campaigners have said.
The chain ferry service was suspended after cars scraped their bumpers while disembarking and stranded passengers waded through water when it broke down on its first weekend in operation.
It has now been cleared for use and is set to resume service on Wednesday.
East Cowes shop owner said Angie Booth said business had been "stagnant".
Crowds gathered to watch the chain ferry begin operating on 13 May, replacing a vessel that had run between Cowes and East Cowes for 40 years.
However, cars struggled to embark and disembark without scraping their bumpers and the vessel broke down the following morning.
It was subsequently suspended due to "crew familiarisation and training" issues on the orders of the Maritime and Coastguard Agency (MCA).
Following a visit by MCA surveyors on Friday, an MCA spokeswoman said: "The outstanding corrective action has been completed to the satisfaction of the surveyors and the vessel's certificate has been reinstated."
Isle of Wight Council said the service would resume on Wednesday at 05:00 BST following "further extensive staff training and additional practice".
Councillor Ian Ward, cabinet member for transport, said: "Now that the floating bridge crew have had more time to use the floating bridge and have had more time to get used to it, they are confident and able to bring the bridge closer to the shore."
The council also said longer "fingers" would be added to the end of the prows at either end of the bridge in July.
Ms Booth said the situation had been a "farce" and said the local authority should reimburse businesses for their losses.
"Over five months we've been without the footfall and the vehicles - it's been crippling for a such a small town - it's had a horrendous impact."
A launch has been used to ferry foot passengers while drivers have faced a 10-mile road diversion.
Cowes Floating Bridge - Timeline
July 2014 - IOW Council and Solent Local Enterprise Partnership agree funding for a new £4.6m chain ferry and slipway work
April 2016 - Work begins on the new vessel at Mainstay Marine in Pembroke Dock
3 January - The old chain ferry makes its final journey after operating for 40 years between Cowes and East Cowes.
27 February - The launch of the new chain ferry is delayed because of tidal issues
28 March - The council U-turns on banning "Floaty McFloatface" in an online poll for a name for the new vessel
14 May - Crowds gathered to watch the chain ferry begin operating but cars struggled to embark and disembark without scraping their bumpers
15 May - The floating bridge breaks down due to electrical fault, with passengers pictured wading to the slipway
16 May - The Maritime and Coastguard Agency suspends the service citing "training issues"
2 June - Marine & Coastguard Agency surveyors restore its certificate
Related Internet Links
The BBC is not responsible for the content of external sites.