Portsmouth tower blocks cladding removal 'may take months'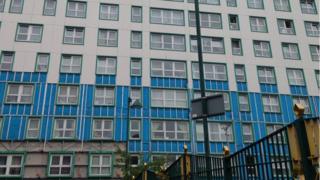 Portsmouth City Council has said it "could take months" to remove cladding from two tower blocks in the city.
Horatia House and Leamington House have aluminium composite cladding which has been identified as "high risk".
At an emergency meeting held on Tuesday residents were told the timescale to remove the panels was unclear.
Portsmouth Council leader Donna Jones said: "We are going to have to put scaffolding up which is going to take weeks."
Read more on this and other stories from across the south of England
Works started to remove the panels from the 18-storey blocks on Friday.
Ms Jones added there remained no need to relocate residents.
The council has also deployed fire marshals who will remain in the blocks 24 hours a day.
The cladding has currently been removed half way up Horatia House.
The move comes as it is feared cladding helped spread a blaze that killed at least 79 people at Grenfell Tower in London.
Ms Jones said the cost of removing the panels from both blocks would certainly cost "millions" but she anticipated "the government will be paying for this".
She said: "Hampshire Fire and Rescue Service and our engineers are happy and satisfied that all the other fire preventative measures in those blocks are there and working.
"I am satisfied that residents staying in those blocks are safe."