Southampton University residence staff strike over pay cut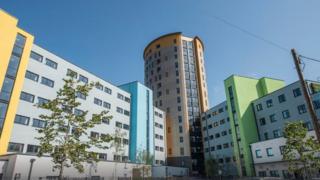 University student support workers have walked out in a row over plans to cut their night-time shift allowances.
Public service union Unison said University of Southampton staff working evening or night shifts in halls of residence faced pay cuts of up to 20%.
The university said the shift allowance originally proposed had been increased and the 42 affected staff would also receive a "compensatory payment".
The 24-hour walk-out at the halls of residence was due to end at midnight.
Read more on this and other stories from across the south of England
The union's regional head of higher education, Mike Wilson, said: "These cuts will leave people unable to pay their rents and mortgages.
"This is a very wealthy employer, and it has no justification for slashing workers' pay."
A University of Southampton spokesman said: "The university has agreed these revised arrangements to ensure consistency of shift allowance across the institution and it is with regret that we have been unable to reach an agreement that Unison find acceptable.
"We will do everything we can to ensure that disruption to our students is minimised."
The university said the changes were being proposed ahead of a "new and improved" residence based team that would offer support to students 24 hours a day, seven days a week.